—staying out of trouble with my Oly C-series rangefinders
On this page—
---
The Devil's in the Details
Too much stuff to keep track of
When details count, as they nearly always do in photography, my memory becomes a immanent threat to success.
I compiled the checklists below to keep myself out of trouble. To keep the lists simple, accurate and experience-based, I've cast them strictly in terms of my own current cameras (the Oly C-5050Z and C-2020Z), my own accessories and my own style. To keep them short, I've cross-linked them heavily to pertinent details presented elsewhere on dpFWIW.
Perhaps you'll find them a helpful starting point for your own lists.  I'll be adding more as time and experience permit. Your mileage will probably vary.
---
Baseline Shooting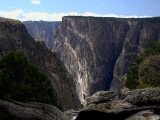 Painted Wall, north rim, Black Canyon of the Gunnison, Colorado
This baseline list reflects the fact that I do most of my shooting outdoors. My main camera is now an Oly C-5050Z. My older C-2020Z is used almost exclusively for IR and UV photography these days.
I set my C-2020Z to retain settings from power-down to the next power-up. Most of the time, that works just fine, but occasionally it's been disastrous — like the time I shot San Francisco Bay from atop the Marin Headlands on an absolutely gorgeous day with manual focus set at 1 m — a hold-over from a hyperfocal test the day before! The C-5050Z allows me to set up a custom power-up profile, which pretty much obviates the need for a baseline settings checklist.
Baseline Checklist — C-5050Z or C-2020Z

Chk

Gear

Actions, Settings, Notes

Camera with armor
Check for NiMH AAs, memory card
Memory
 256MB CF cards for 5050, 128MB SM card for 2020
Small camera bag
Check for everything listed here
Clean lens cloth
In small bag or trousers pocket
Monopod
Optional
B-300 teleconverter; WCON-07 wide-angle converter

Chk

Settings & Tasks

Actions, Settings, Notes

Color mode
Full color
Resolution
Full (2560 x 1920 for 5050, 1600 x 1200 for 2020)
Recording
Least (SHQ) JPEG compression
ISO
100 (fixed)
Sharpening/Saturation/Contrast
-5/0/-4 for 5050, off ("soft")/-/- for 2020
White balance
Auto
Focus
Auto (double-check!)
Exposure mode
Program
Flash
Off (internal and external)
Spot meter
Off
Macro focus
Off (double-check!)
Check at scene
Composition, tonality, and the corners and edges of all frames before shooting
---
External Flash Work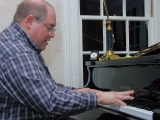 Dennis tearing up the piano again; external bounced flash
There are lots of ways to screw up with external flash. I've tried them all. Explicitly listed items represent absolute requirements or departures from the baseline list.
External Flash (EF) Checklist

Chk

Gear

Actions, Settings, Notes

Baseline gear
Confirm
External flash unit, sync cable
Flash bracket, quick release
Bounce card, rubber band
Extra NiMH AAs
For the EF unit
Tripod?
If a monopod won't do

Chk

Settings & Tasks

Actions, Settings, Notes

Baseline settings
Restore
Confirm exposure mode
Aperture-priority or manual
External flash mode
On (fixes shutter speed)
Internal flash
Off
Manual white balance
Sunny or Overcast to taste
EF unit
Connect, turn on, test
EF power, bounce head
Set for conditions at hand
Aperture
Set for EF power setting
Pre-test
Flash, exposure, shadows
---
Hyperfocal Work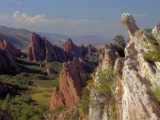 Looking north from the crest of the Lyons hogback at Roxborough State Park long the Rocky Mountain front southwest of Denver, Colorado
Remembering to zoom all the way out first has been my biggest pitfall with hyperfocal work. Accurate manual focus using the LCD remains a challenge. Digital zoom isn't good for much, but it does help to confirm good manual focus. BTW, the photo at right has nothing to do with hyperfocal technique.
Hyperfocal Checklist

Chk

Gear

Actions, Settings, Notes

Baseline gear
Confirm
Tape measure
Tripod
If a monopod won't do

Chk

Settings & Tasks

Actions, Settings, Notes

Baseline settings
Restore
Zoom
Full wide-angle (EFL = 35 mm)
Aperture-priority
f/4.0
Manual focus
1.14 m (3.74 ft) for both C-2020Z and C-5050Z
Place camera
~0.6 m (2 ft) from nearest foreground object to be in focus
Check at scene
Near and far focus using LCD with digital zoom
---
Infrared and UV Work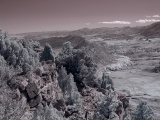 Looking south from the crest of the Dakota Hogback along the Rocky Mountain front west of Denver, Colorado; R72 IR filter
Infrared (IR) digital photography is tons of fun. Ultraviolet (UV) digital photography is an aquired taste, and by far the more challenging out-of-spectrum experience of the two. Since multisecond exposures are common in UV work, even in bright sunlight, consult the low-light checklist as well. Since the C-2020Z beats the socks off the C-5050Z at IR and UV work, the latter's hardly worth bothering with here.
---
Low-Light Work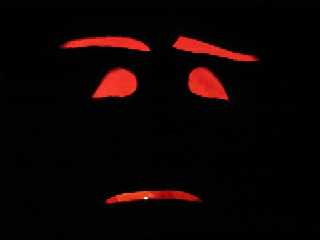 Still bewildered after all these years
dvance planning is key in low-light work of any kind, including IR and especially UV work, particularly when dark-field subtraction and imaging averaging are in the offing. This list supercedes the IR and UV checklist when multisecond exposures come into play. My C-5050Z will perform an in-camera dark field subtraction for exposures greater than or equal to 1 second when noise reduction is enabled; for this purpose, it stores a pixel map which can be remapped from time to time by the user as the CCD ages.
Low-Light Checklist

Chk

Gear

Actions, Settings, Notes

Baseline gear
Confirm
Tripod w/ suitable head
Proper attire
Check ambient temperature
Plastic bag (condensation shield)
If cold outside
Optional
Moon exposure table, star chart, IR filters, UV filters

Chk

Settings & Tasks

Actions, Settings, Notes

Baseline settings
Restore
Equilibrate camera to ambient temperature
If cold
Warm up spare batteries in pockets
If cold
Recording
TIFF — a must for subtractions and averages
Sharpening
Off ("soft") — also a must for subtractions and averages
White balance
Suitable preset — another must for subtractions and averages; no auto
IR remote triggering
On
Exposure mode
Manual or shutter-priority
Take dark or redundant frames
As needed
Check at scene
Exposure times
Cover camera with plastic bag before bringing indoors
If cold outside—especially if humid indoors
---
Travel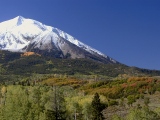 September color at Mount Sopris, central Colorado Rockies
This list derives in large part from the dpFWIW article Backcountry digital photography. My main travel camera is now a 5MP Oly C-5050Z. At full 2560×1920 resolution and minimum (SHQ) JPEG compression, its image files run 3-5MB each. That means carrying every byte of memory I own:
5 x 256MB CF cards
1 x 128MB SM card
4 x 32MB SM cards
1 x 32MB xD card (came with camera; used as an emergency reserve hidden in camera bag)
The C-5050Z's ability to use CF, SM and xD cards and to move images among them without a fuss is a great boon. Thankfully, it's amazingly easy on batteries, even with the LCD on most of the time. One fresh set of 2300 mAh AAs will cover even the most shutter-happy of days.
When the C-2020Z comes along, it does so as an IR or UV ,camera, at which point the IR/UV checklist comes into play.
How much memory and battery capacity to take along are recurring questions, but with two fast chargers and several extra AA battery sets along, I no longer carry an AC adapter for the camera, even for TV slide shows.
Travel Checklist — C-5050Z only

Chk

Gear

Actions, Settings, Notes

Baseline gear
Confirm
Extra memory
256MB per day is usually enough
Extra NiMH AAs
At least 5 sets of AAs > 1600 mAh
Extra battery wallets
Double as nanobags
Oly BU-100 charger
For hotel room
Maha C-204F charger
For car and room
12V car adapter
For C-204F charger
Solar AA charger
If away from power source for 5+ days
B-300 teleconverter
WCON-07 wide-angle converter
Video cable
For TV slide shows back at the hotel
Tripod?
If possible
Medium camera bag
Miscellaneous items
Optional

Chk

Settings & Tasks

Actions, Settings, Notes

Baseline settings
Restore
Top off batteries
In car or just before departure
Empty all memory cards
Triple-check all gear
---
Medium Camera Bag Checklist
Besides the gear listed explicitly above, my medium bag carries the items listed below.
Medium Bag Checklist

Chk

Gear

Actions, Settings, Notes

Manuals
Camera, Kodak PhotoGuide
Kodak Q-60 color target
Close-up lenses
Uncoated UV filter
For salt spray protection
Cokin GNDs and holder
Mini-tripod
Lens-cleaners
Brush, cloth, solution
Spare IR remote
Spare remote battery
LCD hood
Emergency AA set
Lithium disposables (4)
Plastic bag
To cover medium bag
Flashlight